Article content
EXETER – A month-long festival in Exeter that launches June 1 will feature a six-metre revolving balloon representing the Earth.
Article content
The centrepiece of the June 1 to July 3 Huron Waves Music Festival will be GAIA, a slowly revolving balloon created by British artist Luke Jerram from NASA photos of the Earth's surface.
GAIA has toured internationally, and festival artistic director John Miller said those who have seen it in person have reacted in awe. Miller describes Jerram as "a renaissance man" and has seen his prior work, including a similar project representing the Earth's moon that was shown on Tom Patterson Island in Stratford.
"He just thinks in ways that the rest of us don't," Miller said of Jerram.
As GAIA revolves in the sanctuary of Trivitt Memorial Anglican Church in Exeter, it will be accompanied by a composition by British composer Dan Jones, which includes, according to a press release from the festival, the "voices of astronauts aboard the space crafts, the resonance of the solar system, and the composer's own planetary interpretations … in a continuous soundscape."
Article content
GAIA, which, in Greek mythology, is the term used to personify the Earth, is lit internally and each centimetre of the balloon represents 18 kilometres of the Earth's surface.
Preparations are being made in Trivitt to accommodate GAIA, including the removal of church pews and the draping of most of the windows. Miller said the church has been enthusiastic about the project since it was first approached about the idea.
During musical performances, the stage will be set up at the back of the church and temporary seats will be brought in, Miller said.
The festival has set up three "pods" at the church for students and, so far, about 1,500 students from all over Southwestern Ontario are booked to tour GAIA. The first pod is the viewing of GAIA in the church. Students will then move to another room in the church where they'll watch a video called Curb Your Carbon. The video, which has been shortened from its original 44 minutes to a 20-minute version for GAIA, will use humour, stunts and animation to reveal ways to help fight climate change.
Article content
"This is our Earth, but we all have individual responsibilities," said Miller, pointing out that the theme of this year's festival is "Our Earth/My Responsibility."
The third pod for students will be outside on Baldwin Street, which will be closed for the month. That pod will feature a roughly 11-metre-by-eight-metre floor mat from the Royal Canadian Geographic Society that will feature pictures from Canadian satellites.
There will also be activities for young people to explore, Miller said. As well, educational information has been put together for visiting classes.
The Rotary Club of Grand Bend is covering the GAIA entrance fee for all students, including those who attend with their schools or who show up with their parents. Tickets to see GAIA for adults are $10 each and can be booked online or at the door.
Article content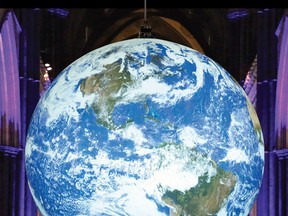 There are several other events at Trivitt during the festival, including Water: An Environmental Oratorio on Sunday, June 4, from 3 p.m. to 5 p.m. Water is a collaboration between Grand Bend's Paul Ciufo and Toronto-based composer Stephanie Martin.
Thursday, June 8, will see a performance of Jazz of the Great Lakes from 8:30 p.m. to 9:30 p.m. The concert features the work of a Métis composer, who has written a piece with five movements, one for each of the Great Lakes.
Pride Month will be honoured on Wednesday, June 14, with Craig Hella Johnson's Considering Matthew Shepard, featuring The Elora Singers and musicians, with conductor Mark Vuorinen. Shepard, a 21-year-old gay college student, was beaten to death in Wyoming in 1998, and this production "frames the narrative as an evocative, compassionate, ultimately uplifting musical response to Matthew's tragedy," the festival stated in a press release.
Article content
On Wednesday, June 21, Dark Horse Estate Winery will host An Evening with Tomson Highway, which will recognize Canada's National Indigenous Peoples Day. Actor Graham Greene will host, and local artist Red George's work will be on display.
Eddington's of Exeter will host A June Strawberry Social on Saturday, June 24, from 2:30 p.m. to 4 p.m.
Finally, Endless Dusk: An Arctic Sound Experience, will take place at Trivitt on Wednesday, June 28, and Thursday, June 29, from 8:30 p.m. to 11 p.m. The piece is written by Canadian composers Robin Dann and Matthew Pencer, and will include a soundscape that features sounds of the Arctic.
"The music and the artistry will reflect, through voices and recorded sound, the sense of the Arctic," Miller said.
Article content
The Lakeshore Eco-Network will host What's Next? outside Trivitt on three Saturdays – June 3, June 10 and June 24. Various groups will show off displays and attend to answer questions on what individuals can do to help the planet.
Miller said he's excited to see GAIA, adding the artist has spoken of the mystique of the work.
"There's a learning experience for each of us," Miller said. "It's the idea of seeing our planet in its entirety and realizing just how small each of us is in comparison to the planet. But also … it's the sense of how small Earth is in the overall cosmos. And in that sense, it's humbling."
The festival is also looking for volunteers for the event. For more information, including tickets, visit huronwaves.ca.